The public policy world lost one of its most colorful personalities yesterday with the death of super-lobbyist Jack Valenti. For 38 years, Valenti was the motion picture industry's man in Washington, bridging the yawning gap between the worlds of Capitol Hill and the Hollywood hills. He was perhaps the most recognized lobbyist in the country – in no small part due to his long-running annual appearances at the Academy Awards.
His Washington credentials were extensive, having served as a staffer for Presidents Kennedy and Johnson.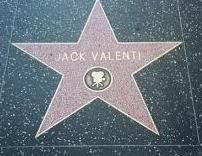 But Valenti was no typical blue-suited, Code of Federal Regulations-quoting D.C. rep. Like a seasoned actor playing a role, he brought Hollywood-like style and drama to Washington in a way that few others could ever match.
With a voice like that of a Roman senator, the silver-haired Valenti – dressed nattily, often with a trademark red handkerchief in his pocket – could make even the most mundane debate sound like a Shakespearean drama. Among his more quotable and provocative lines, from the 1980s copyright battle over the video cassette recorder: "I say to you that the VCR is to the American film producer and the American public as the Boston stranger is to the woman home alone." There's a reason he is the only D.C. lobbyist with a star on the Hollywood Boulevard Walk of Fame.
Valenti was by no means always right on the issues. The VCR, for instance, wasn't much of a Boston strangler. He wasn't consistently pro-free market, nor consistently anti-free market. But then again, that wasn't his job. His job was to represent the interests of the motion picture industry, as the industry understood them. And that he did exceptionally well. Both Washington and Hollywood will miss him.